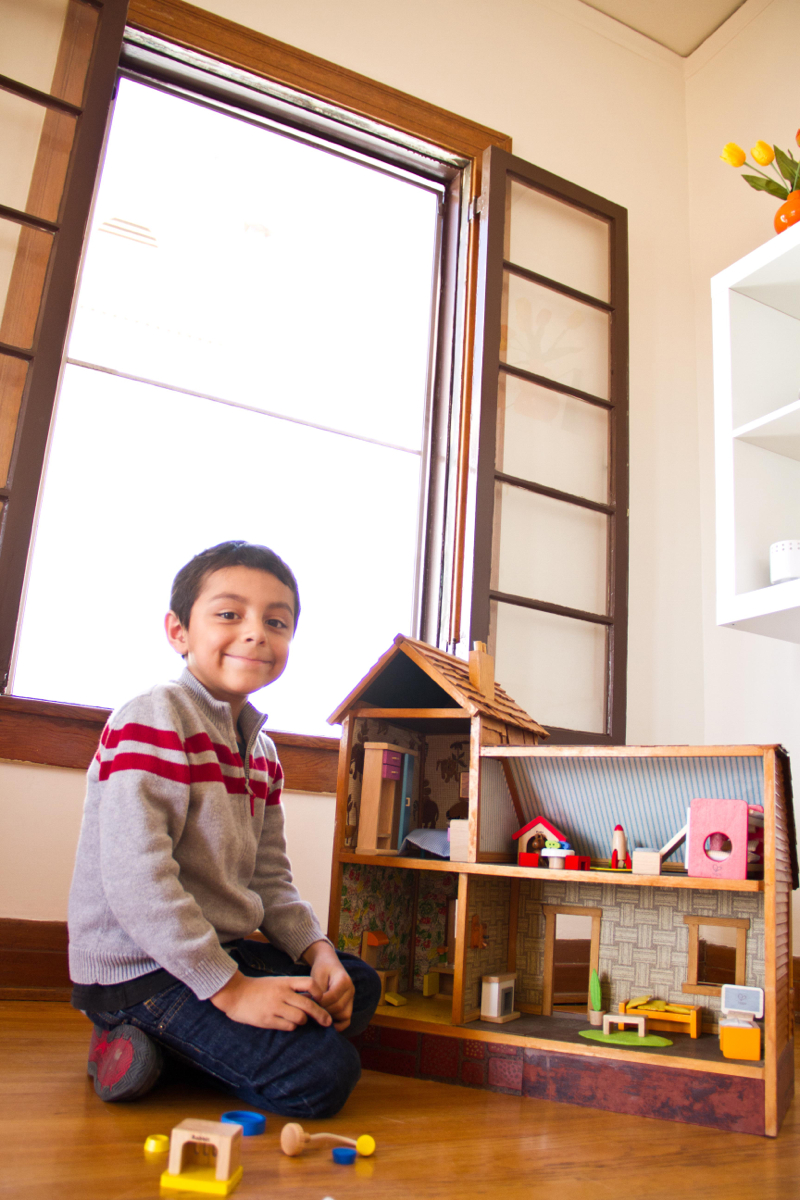 I'll be the first to say that biology does not make family. Featured in this post is my incredibly clever and strikingly handsome grandson Nick. Nick, however, is not my biological grandson. His birth father is my former foster son, John. John no longer parents Nick so its up to me and Nick's awesome mom, Karina, to make sure he'll be A-OK. Karina, by the way, is also first in her family to go to college, helps out with my stuff, and has a wonderfully sharp sense of humor and an easy laugh.
Nick comes over often and when he does, his favorite toy in the house is my old dollhouse. This is the dollhouse that my hippie parents built for me when I was Nick's age (my first name will confirm this statement and well, maybe one day I'll share a bit about the poker game and the drug induced haze that all but guaranteed I'd be named Dylan whether I was a boy or girl…).
Beliefs my hippie parents instilled in me that I want to share with Nick. (1) Macrame is a legitimate way to hang a plant; (2) You are only held back by your own (lack of) imagination and (3) There is no better toy than a wood toy. Better for the child, better for the planet.
I held on to my dollhouse for 40 years and was lucky enough to have Nick love it too … because boys can absolutely play with dollhouses. I'm sure Frank Gehry would agree.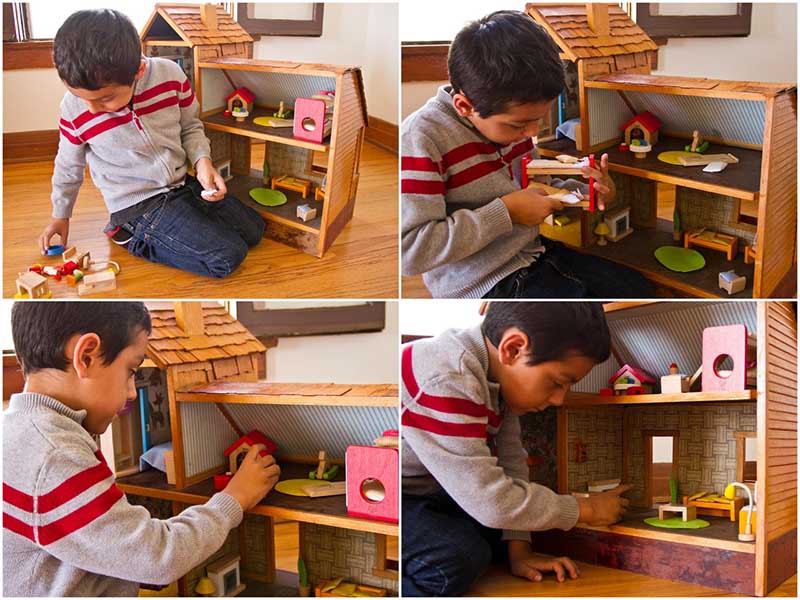 As a compliment to my hand-built wood dollhouse I brought home the best doll house furniture available – Hape Toys and Plan Toys.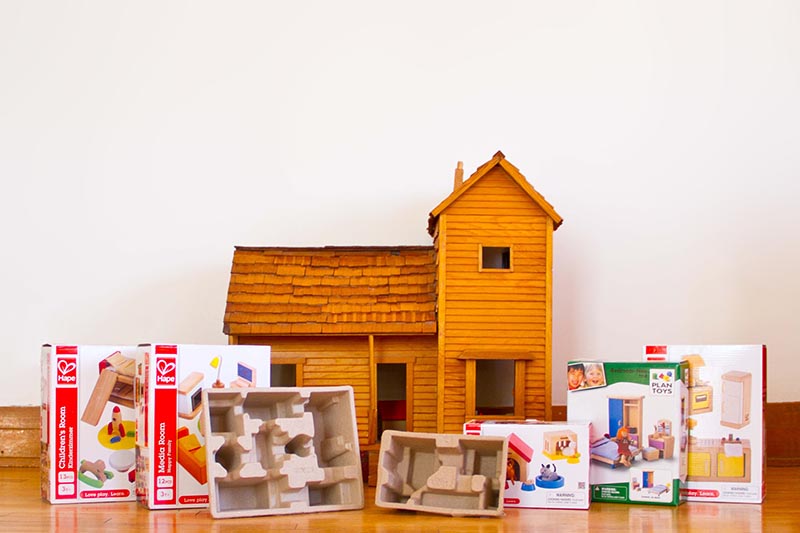 Wood toys built to protect the environment and our kids – toxin free and part of a recycle chain that we can all be proud of.  The best part? Nick is indifferent to his toys' materials … he just knows he's building a happy home for a dog, a cat and a rabbit! And by the way, why is the dog called FIDO and the cat and rabbit called CAT and RABBIT!?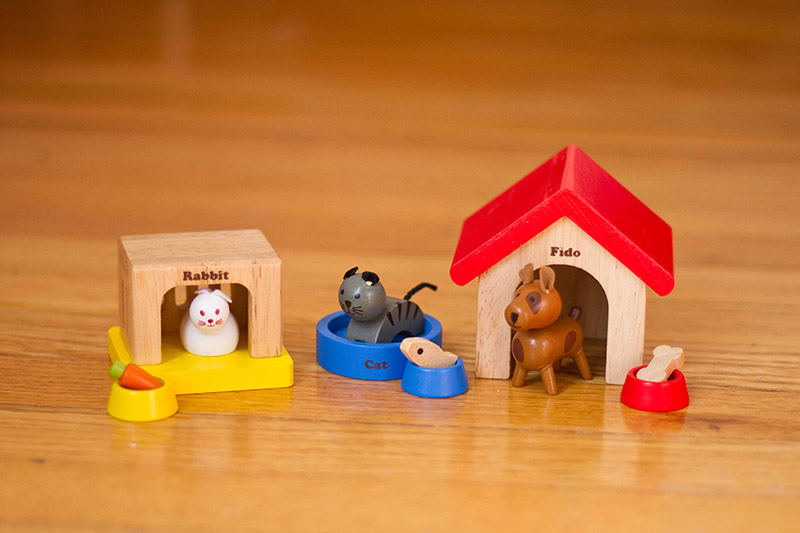 P.S. You may just want to scroll back up to check out the awesome wallpaper in the dollhouse – yep, that wallpaper came directly from the walls of my family's hippie home!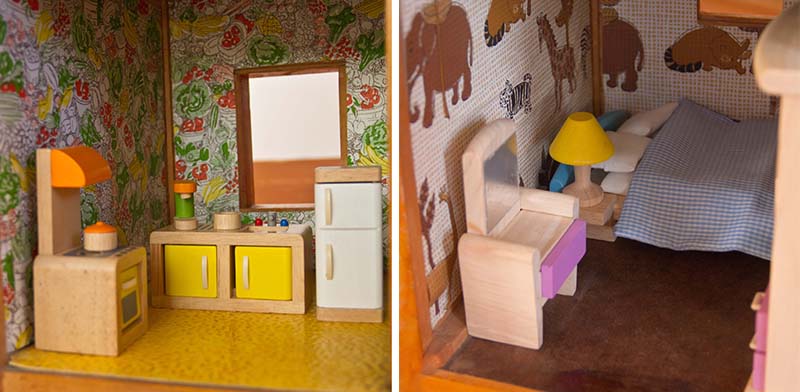 {All photos by Mark Kerckaert}