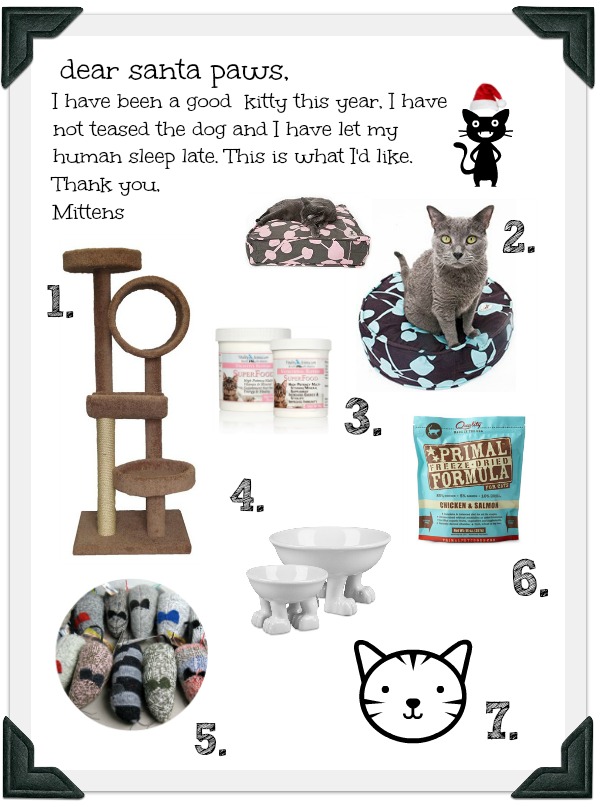 As the holidays approach, please take a few minutes to consider what your furry friends might want to bring in their own new years. Or, if yours are bold like mine, perhaps you will find a list.
Here are our top 7 favorite holiday gifts for kitties (and pups!) alike!
1. Molly and Friends – this Florida-based cat furniture maker has truly taken the cat condo to a new level. Hand made from premium wood, this condo may cost you a little more but will A) last a lifetime, B) not topple over (ever) from active cats, and C) will not completely shred and shed carpet balls all over your living room floor. I love this condo so much I wrote about it in an earlier post about chic homes and happy cats. Save your couch, by Molly and Friends.
2. Molly Mutt Beds: For pup or for kitty, these beds are the smartest solution to saving the planet I've seen yet. Buy their tastefully designed duvets in all your favorite colors and fill them with your old t-shirts or even old pillows! We have several around the house and they are equally loved by all creatures.
3. Vitality Science Super Cat Food Supplement: Does my cat really need a vitamin? Well mine really needed some GI help. Looking to get an IBS kitty off antibiotics I tried Vitality Science's pet flora and lithothamnium. Wow! I have a happy cat! I did some more reading and discovered the pet vitamins. Admittedly I spoil my little ones but I do want them to live forever so why not boost their diets with some extra goodness?
4. Dylan Kendall Pet Bowls: Ok, yes these are made by me so my kitties have more bowls then they can shake a paw at! But If your kitty could talk, she'd probably want these bowls too 😉
5. Marvelous Melissa Cat Toys: I'm madly in love with these mice because shop owner and mouse designer, Melissa, had the genius to use old wool socks and fill them with organic cat nip. What better way to save a landfill from another bit of our waste (and be respectful of the sheared sheep) then to turn them into kitty toys! Huge paws up from our kitty testing team!
6. Primal Raw: I'm a vegan but my cats aren't. What better way to take care of their health then to feed them what they were designed to eat? Primal Raw in San Francisco uses human-grade, antibiotic-free and steroid-free meats, poultry and game, sourced from US ranchers and farmers. Raw isn't cheap so I give the dehydrated version to my little ones as a treat and they literally climb up my leg when I shake the bag!
7. A New Feline Friend: Yes, kitties get lonely and they don't need to be as there are lots of kittens and cats in your local shelter or being fostered by your local rescue groups. Perhaps this holiday season consider saving the life of a cat in need and bringing home the friend your solo cat has always wanted.