In honor of the new year, I propose we start off on the right foot! What better way to embrace 2015 then by considering the foundation of our homes. The floors of our home can make or break how we experience a room. Clean, well-cared for floors provide the base for our furniture and our home design choices. Whether you love hard wood, cement, tile or wall-to-wall carpet, I'd like to introduce you to an incredible flooring option that allows you to change the feel of your rooms as easily as you change your moods.
Meet FLOR! A modular carpet system that can be custom fit to match your design imagination and, unlike many other flooring options, uses no animal products and strives to exclusively use renewable and recycled raw materials. What? Animal products in our carpets? Yep, wool. Wool, that omnipresent home offender, still shows up in about 10% of carpets. But with FLOR, not only is that not a concern, you can feel good that your carpet isn't suffocating your children or your pets. FLOR carpet squares have some of the lowest Volatile Organic Compounds in the industry. Which means what? That their squares won't off gas toxins – remember that funny new carpet smell we all commented on? Want more fantastic-ness? When you are ready for a face-lift, you can just ship your old squares back to FLOR to be recycled into new squares. Absolutely perfect, right? Chic design, chic sustainability and environmental practices and most important? Pets love these squares!
Quick fix for your apartment? Sign FLOR up. I inherited a kitchen floor that overwhelmed me with color. Thankfully eight FLOR tiles in dark blue put a kabosh on some of the color craziness. And the best part is they stick to themselves with a little FLOR sticker that goes under the each square. No glue. No landlord emails. No trace of them when you pick up and move.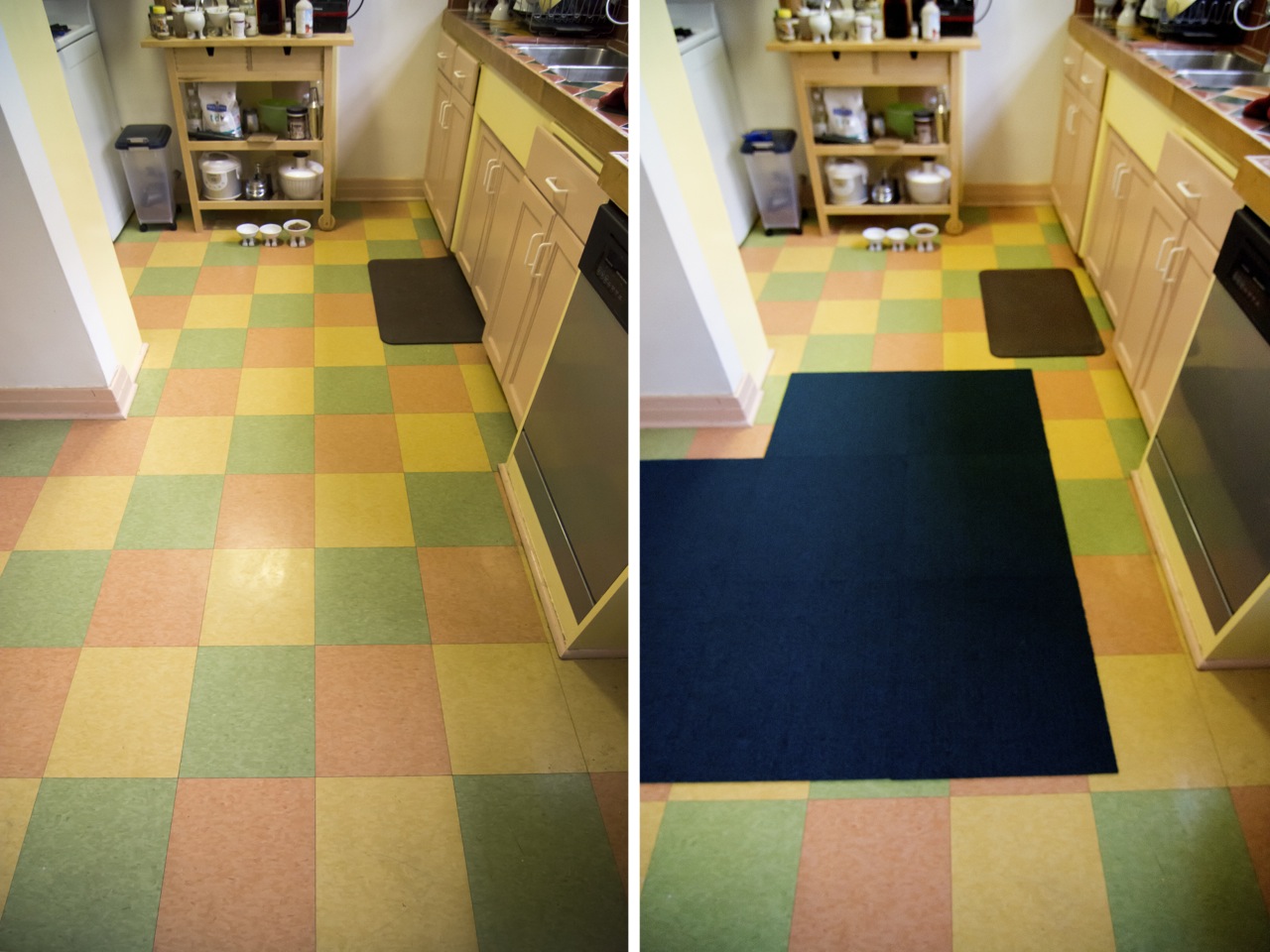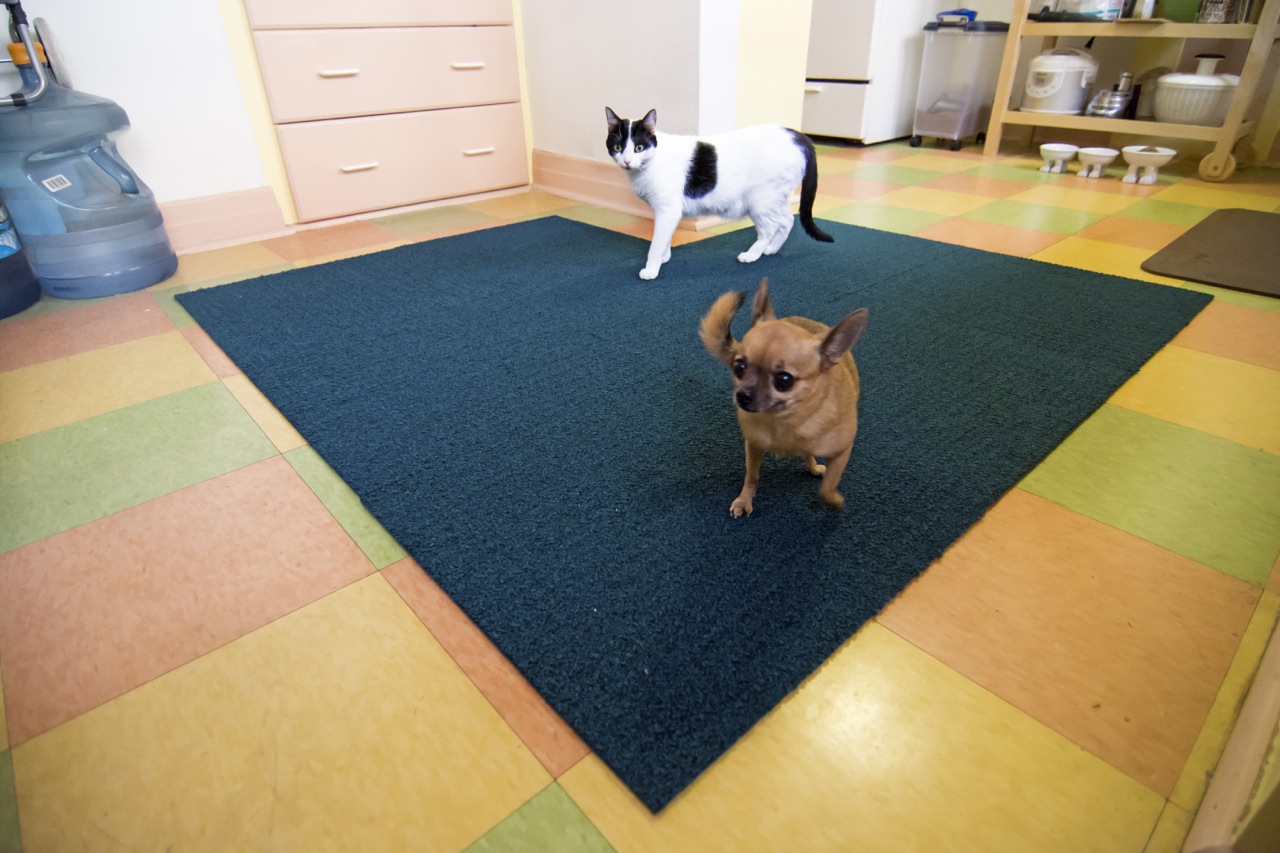 After noticing how much my animal companions loved my new kitchen FLOR, both to play and to scratch, I decided to buy a few more and turn my previously blanket-covered dressers into happy — and now minimalistically clean — cat beds. Now when my cats stretch, roll and scratch their claws, they don't knock off a bunch of folded up cat blanket beds that I have to pick up from the floor. And the tiles are remarkably easy to clean, just lift out the square and wash!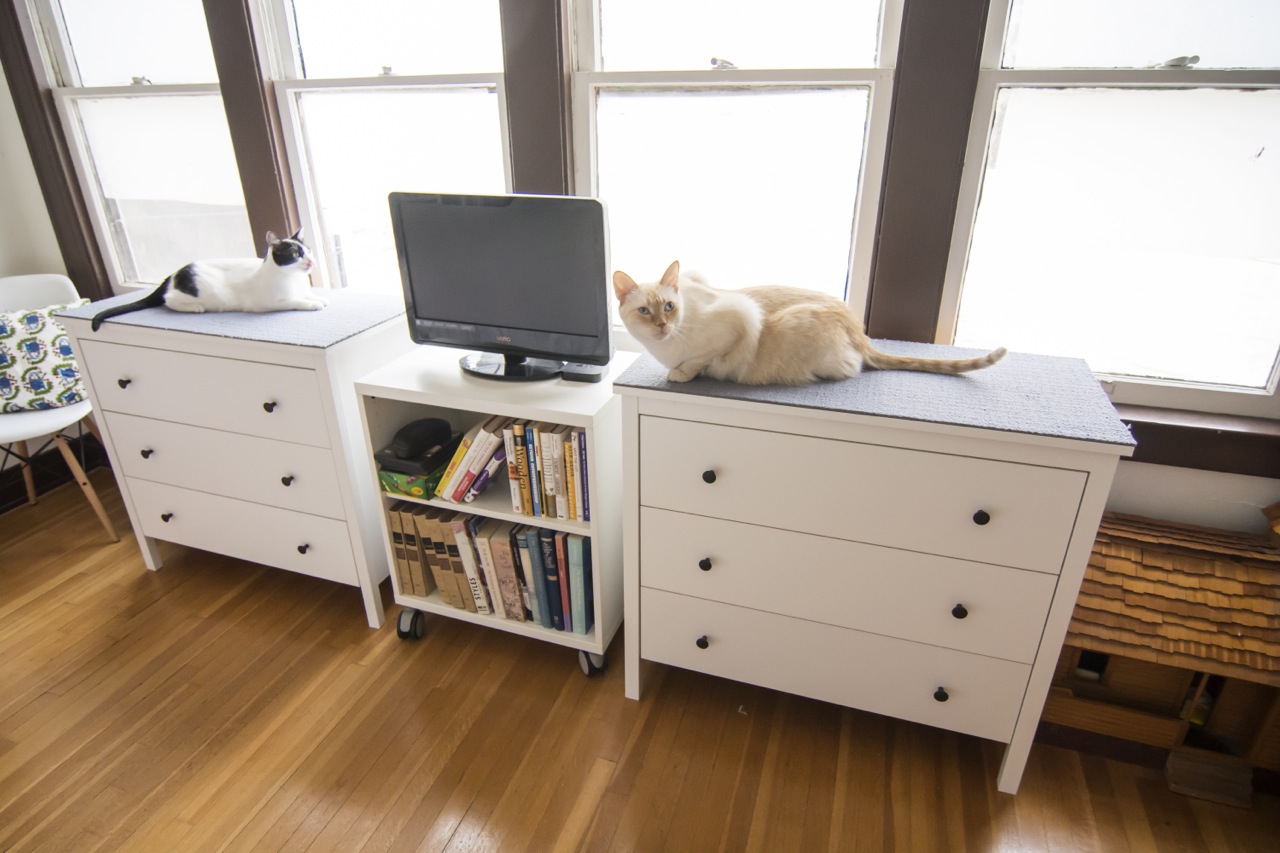 Not much more to say. Save a sheep. Make a cat happy, Make your home happy. Check out FLOR.